Global Partnerships Make It a Smaller, Healthier World
By Tricol Biomedical | April 27, 2023
Share this post: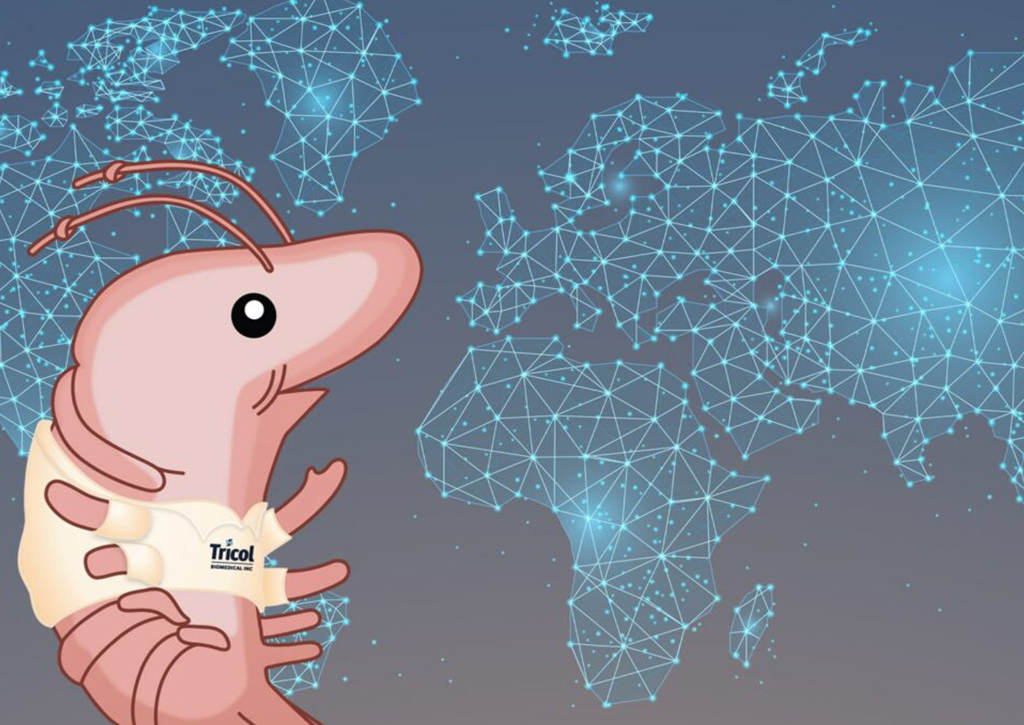 Tricol Biomedical's far-reaching hemostatic solutions benefit worldwide healthcare, impacting the approximate 40 percent of trauma-related deaths that result from bleeding and helping to control bleeding in hospitals due to surgery or other clinical procedures.
Tricol's proprietary muco-adhesive chitosan formulation, Chito+™, on its vast portfolio of medical devices, supplies distribution partners with its lifesaving products on a global scale.
Here are locations where Tricol is advancing the standard-of-care in hemostatic and wound management. As they evolve, they proudly anticipate sharing their medical technology in new markets.
Italy
For half a century, opens in a new windowSEDA SpA has provided Italian healthcare professionals with innovative medical devices that improve and save lives. As a result, they are a top-trusted, well-known distributor in Italy. Through partnership with SEDA, Tricol has significantly accelerated expansion in Europe.
With an excellent reputation across diverse specialties, SEDA is an ideal partner to represent Triocol's diverse portfolio of procedural and trauma devices. Together, they quickly have accommodated the critical need for advanced hemostatic devices in Italy while setting a higher standard for patient care.
Spain & Portugal
For over 20 years, opens in a new windowWorld Medica has been dedicated to improving patient outcomes in Spain and Portugal. Tricol enhanced World Medica's carefully curated portfolio of medical devices with Chito+™ hemostatic solutions. Together, they uncovered and addressed critical supply needs.
Through participation in key national and international congresses, combined with strong KOL relationships, World Medica is a highly trusted medical device distributor in Europe and a perfect partner for Tricol in this region.
The Nordics
By partnering with opens in a new windowMermaid Medical Group since 2011, Tricol has improved patient outcomes across Denmark, Norway, Sweden, Finland, and Iceland. Mermaid Medical focuses on solutions for diseases of the vascular system as well as devices used in interventional radiology. They succeed through strong, trustworthy partnerships. Tricol is one such partner. Together, they provide safe, effective solutions.
For additional distribution in the Nordics, Tricol partners with opens in a new windowAP Services A/S, a company whose mission is bleeding control. Since 2006, partnership with this distributor has allowed Tricol to further their vision of achieving zero preventable deaths from blood loss.
Perhaps most noteworthy, their impressive partnership allowed Tricol's lifesaving hemostatic devices to quickly aid our allies in the Ukraine. Originating to help soldiers with traumatic wound injuries, Tricol has been a pioneer in battlefield and pre-hospital hemostasis. Chito+™ hemostatic solutions continue to save lives for those who serve and protect.
South Africa
Johannesburg-based opens in a new windowCossni Medical helps stop the bleed in South Africa. A well-respected distributor in procedural and trauma markets, Cossni has established relationships with South Africa's major private healthcare groups. They have a stellar reputation for providing carefully selected devices that address critical needs, making them ideal to represent Tricol's extensive product line. Together, Tricol and Cossni continue to drive improved patient outcomes.
Taiwan
Since 2005, opens in a new windowWinChamp Medical Co., Ltd. has been developing and introducing medical technology throughout Taiwan. Through partnership with WinChamp, Tricol has developed a remarkable presence in Taiwan's healthcare arena. Together, their customer base, portfolio, and lifesaving abilities keep growing.
Japan
opens in a new windowZeria is one of the largest pharmaceutical/medical device companies in Japan. Tricol's partnership with them began in 2010 and has led to a strong presence of Chito+™ devices in Japan. Together, they continuously benefit patients throughout the country.
Empowering the World with Chito+™
Hemorrhage is the most common cause of preventable death in trauma situations and anemia is a critical complication for ICU patients. Through exemplary distributor partnerships, Tricol's reach across sites of care is expansive and saves lives around the globe.